Best Skateboard Trucks (2021)
Whether you've been setting up boards since the clay-wheeled 70's or are picking out a new setup for a loved one, finding the best skateboard trucks is essential to creating a fulfilling skateboarding experience. Compare and contrast the top brands, learn about skateboard truck basics, and answer some of your most pressing questions with the information below so you can buy with confidence.

---
At less than $40 this set of trucks, wheels, bearings, and hardware is a great deal for new or budget-conscious skaters.
You're getting quality components that should last through rigorous skate sessions for beginner and intermediate skateboarders at an unbeatable value.

Lacks some of the specialty alloys like titanium or magnesium, so you're looking at a fairly heavy, if strong, set of trucks.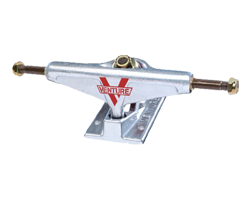 The venture low is the best selling truck in the world. They have forged baseplates, a stacked team of pro riders, and USA manufacturing.

Made of high grade aluminum and a steel kingpin, it has an excellent polished hanger finish and cool looking logo. Easy to find replacement parts.

No alloy upgrades or colored finishes on this model. Venture has a bit a reputation for weak kingpins, so best to use another truck for high-impact drops.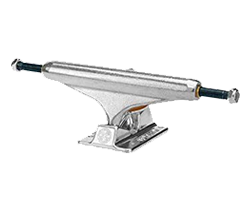 These ultra lightweight premium trucks use an aluminium and titanium alloy to deliver an extremely strong product made with USA based manufacturing since 1978.

These titanium enfused trucks are a full 15% lighter than their standard set and has the highest strength to weight ratio in their entire line.

These are some of the best trucks ever made, and you're gonna be paying for it, with a retail price double what their competitors charge for standard aluminum trucks.

These Thunder trucks are lightweight with advanced hollow axels, kingpins, and forged baseplates. Also comes with a keychain.

Thunder trucks have a reputation for durability and responsive bushings for board control. Last a long time, and have a full warranty.

No premium alloys in the body of the truck, and if you're doing A LOT of grinds you may grind through the axel over time due to the hollow design.

Best Skateboard Trucks – The Basics
Skateboard trucks are aluminum (never plastic) axles attached to the bottom of a skateboard that connect to your wheels and bearings. Trucks are held together with a steel kingpin and plastic bushings which let you lean and turn the skateboard. A top "hanger" can be used to grind obstacles and shields the central steel axle that the wheels are mounted on.
The Kingpin
The kingpin is the most important part of the truck. If the kingpin snaps the whole truck falls apart, so finding a reliable steel kingpin is essential. Top brands use grade 8 medium carbon alloy steel, and advanced riders shouldn't settle for less. Children less than 100 pounds may be able to use a lesser grade steel.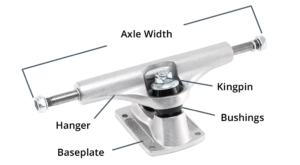 Bushings
Bushings come in either a cone or barrel shape and are mounted on top of and below the hanger on the kingpin. Aside from the shape, they are also impacted by their density or hardness measured in durometers. Typically young riders want softer bushings (81-90 A) so they can more easily turn the board and adult riders want stiffer bushings (91-100 A). It takes time to develop a preference, and you can always tighten or loosen the kingpin to compensate for bushing density.
Hanger
The hanger is composed of aluminum instead of steel to save on weight and is polished to a smooth edge for easier grinding and to prevent catching road obstacles. Having a hanger of low quality risks snapping in half, getting stuck when grinding (a recipe for horrible injuries), or wearing away to expose the steel axle inside which further compromises the integrity of the truck. Some hangers and baseplates are hollowed out for a light-weight ease-of-use, but have a higher chance of damage in high-impact skating.
Options with Trucks
New riders won't have to worry about these options very much, but as you seek to fine-tune your board-feel these different variations will give you better control and adapt to your preference and style.
Truck Height Most skateboard trucks come in a standard "High" configuration where the kingpin and hanger support make the truck stand high enough to accommodate larger wheels.
High: High trucks can use larger (faster) wheels and turn easier.
Low: Low trucks weigh less for flip tricks and are more stable.
Truck Width The width of the best skateboard trucks will match the width of your skateboard deck as closely as possible. Decks below 7.75″ should use 129mm wide trucks, 7.75″ – 8.125″ should use 139mm, 8.125″ – 8.75″ should use 149mm, and above 8.75″ decks need trucks 159mm or more. See a guide by brand here on CCS.
Too Wide: If they extend too far you risk stepping on exposed wheels when turning.
Too Small: If trucks are too short the board is unstable and prone to tipping.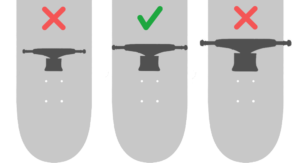 Risers To add additional height and increasing turning radius/ wheel size you can add risers to trucks that are mounted between the truck baseplate and skateboard deck. Risers also help absorb impact and prevent pressure cracks from forming on heavily-used skateboards. Softer risers can even act as shock absorbers, allowing a slightly smoother riding experience.
Pros: Tighter turns and some impact absorption.
Cons: Additional cost for often negligible riding difference.
Expert Tip
Make sure you're buying hardware (bolts and nuts) that are at least 1 inch long, or even more if you're using risers. There's nothing worse than setting up a skateboard and not having enough length to fasten the bolts together!
Frequently Asked Questions
Q. What should I pay for a pair of trucks?
A. Trucks are usually sold in pairs and a set of two typically retails for around $40. Pro model trucks, colored/designed versions, and special alloy trucks will add anywhere from $10-50 to that base price. You can save money by purchasing trucks as part of complete skateboards or in truck sets that include bearings, wheels, or hardware.
Q. What kind of special alloys are trucks made from?
A. Most skateboard trucks are made from high-grade aluminum but will sometimes contain titanium or magnesium to make for a lighter and stronger composite material.
Q. What size wheels should I get with my trucks?
A. Low trucks are best with smaller 48mm-54mm wheels. Mid and high trucks should work well with 55mm-60mm wheels. Bearings come in standard sizes and should fit all wheels.