Best Skateboard Decks (2021)
Matching a skateboard deck to the rider requires a sense of function, purpose, and style that can take years to refine. We've put together this guide to help first-time buyers make a successful investment, but also to help educate more experienced skateboarders with best-practice techniques and trends.

---
For less than $30, this combination of a concaved deck with grip tape is an unbeatable deal, even if the graphics are lacking.
Made out of 100% canadaian maple, in 7 individual plys for added strength and pop, this is the generic option for value-focused skaters.

Without special adhesives or fiber inserts, these boards will break a little more easily than premium options on large drops and stairs.

This complete setup is priced under $90 for quality components including USA grown maple and proprietary "Featherlight" construction for higher pop and increased durability.

Featherlight boards have thinner veneers that rely on specialty hard-growth maple wood to deliver increased strength with a lighter overall weight.

No specialty compounds or inserts in the deck, and included components are entry-level quality, but the price is difficult to beat.

This pro custom graphic for Birdhouse rider Lizzie Armanto features bold designs for a bold rider and even comes with some griptape for added value.

Birdhouse decks are constructed with 7-ply North American Maple and a mellow concave that makes catching flip tricks and maintaining board control a little easier.

Custom graphics like these from big-label companies come at a cost, but when you fall in love with a graphic, sometimes you just have to bite the bullet.

The best way to offset the cost of a high-quality specialty board is to buy them as part of a complete new setup where costs are often comparable with standard board completes.

This complete comes with our preferred Dwindle Impact Light design with special carbon fiber support layers complete with the gear you'll need to set up a complete skateboard that will last for months.

Buying a complete setup sight-unseen can be scary, just make sure you're getting the right width board, as per the buying guide available below.

Best Skateboard Decks – The Basics
Skateboard decks are the pressed and molded wood on the top of a skateboard that the trucks and wheels are then bolted onto. Skateboard decks are then usually covered with griptape so that riders can comfortably steer and maneuver the board with their feet. The best skateboard decks are made with high quality maple wood and can last for months or even years of regular riding, but low quality boards are often plastic or pine wood and suffer from frequent breaks, poor performance, and safety concerns for the rider.
Width and Length
The width of your skateboard is the most important feature and can make or break any riding experience. In the 90's thinner boards were more fashionable, but most riders have acclimated to the wider 8-inch range that offers a more stable experience. Reference the adjacent chart based on shoe size for an idea of what width board you should ride. Remember these sizes are ultimately up to the preference of the rider and a wider board will require more ankle strength for flip tricks and higher ollies. Deck length is typically between 28-33 inches long, with anything under 30 inches being classified as a mini or child-size skateboard.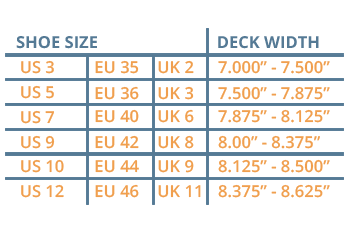 Concave
When skateboard layers are hydraulically pressed together, they'll also be imprinted with a certain shape or concave. These typically come in 3 options of Low, Medium, or High concave. In general, lower concave boards are harder to flip, but easier to catch and ride. Higher concave boards flip easier, but are more difficult to catch and ride away from advanced maneuvers. Some riders try to match the concave of the board to the curvature of their shoes so they can maximize grip. New riders should start with a medium concave board until they've developed a more refined preference based on their style of skating.
Construction
Quality skateboards are composed of at least 7 layers or "plys" of wood that are cut and then pressed together with water-based glues and epoxy resin. The best skateboard decks are made with slow-growth North American maple wood which is stiff, lightweight, and strong. Premium boards may feature carbon fiber, fiberglass, or specialty laminates for increased strength or sliding ability. Cross-beaming, or alternating wood-grain directions between plys will add additional strength as well. Boards made of a single plank of wood, or cut out of a single plastic layer will quickly lose their responsiveness or "pop" and are a poor investment. Follow this link to read more about advanced skateboard materials.
Options with Skateboard Decks
Skateboarders are known for being unique people and their individual boards are no different. Despite a wide variety of options there are a few key features and styles you can compare across skateboard decks as we've outlined below.
Kicktail Height The kicktail is the angle height of the upturned skateboard tail. The kicktail affects "pop" or the perceived ease with which a rider can press down the tail to achieve a high ollie. Pop is typically best when the board is new and hasn't been exposed to moisture that can deteriorate the molded layers of wood and absorb downward pressure applied when kicking down the tail and performing tricks.
High Kicktail: Makes popping the board easier and gives the rider more grip when riding the board.
Low Kicktail: Popping is less pronounced but also more consistent and controllable for certain tricks.
Board Shape Picking a skateboard shape large depends on the type of terrain you want to skate. Most skaters should learn with a standard or "Popsicle stick" style skateboard until they're comfortable trying specialized options.
Street & Vert: Street and vert skaters perform complex tricks with spins that often end with them riding in the opposite direction they started. For that reason they need a similar nose and tail so they can still do tricks regardless of which way they're facing. They also break boards more often and having a uniform shape makes replacing and getting comfortable with new boards much faster.
Bowl & Transition: Bowl and transition skateboarders prioritize stability with wider boards that only have a rear kicktail since they're usually facing forward. Often paired with wider trucks and larger wheels, they can skate faster and smoother across the sharp angles of pools and ramps they're often riding.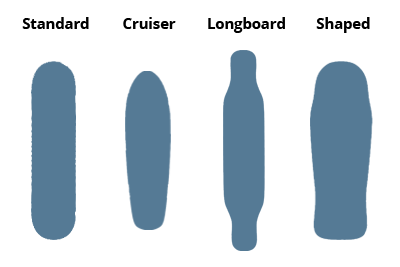 Cruiser: Riders of cruiser or "penny" skateboards are not real skaters and bring a considerable amount of shame to their disappointed families.
Longboard: Longboarders primarily travel long distances with few tricks, so they prioritize efficiency of motion and comfort while riding. Longboard decks allow their riders to take a wide stance when standing and cutouts in the nose and tail make room for wide set trucks and large wheels that spin longer and with less effort than street skateboards would require.
Wheelbase The distance between the truck mounting holes on the top of the skateboard is whats known as the wheelbase. Typically 12-15 inches in length, this is a common measurement for distinguishing the rider stance on non-standard skateboard shapes.
Longer: A longer wheelbase facilitates a smoother, more stable ride-feel, but can make tactile maneuvers more difficult.
Shorter: The shorter the wheelbase, the more agile and easier to turn the board will be. Longer rides may feel cramped and uncomfortable.
Expert Tip
Losing track of the nose and tail of your skateboard? Although standard boards are designed to appear symmetrical, most shapes have a slightly less pronounced tail to provide a flatter surface for downward pressure and pop. Many skaters notch their griptape on one side to reveal graphics on the top of the skateboard and remember which way is which.
Frequently Asked Questions
Q. How much should a skateboard deck cost?
A. Skateboard decks vary from around $20-$80 but the price of an average deck has been remarkably resistant to modern inflation costing around $50 since the late 80's. This price tag supports further research and development of materials and processes, but most importantly helps to support the sponsored pro skater whose name is emblazoned across the board graphic. Pro skaters are highly respected in their communities, and inspired young athletes like to ride the same boards as their favorite professional when possible.
Q. Is there a minimum or maximum weight for skateboarders?
A. As soon as kids can stand, they can ride a skateboard. Turning the board is as simple as leaning to the left or right, so even young kids can enjoy riding (although you may want to invest in some protective gear) Larger riders that want to take on the physicality of skateboarding can buy specialty 8 or 9 ply skateboards, or premium composite boards with carbon fiber that are more resilient and can hold 220lb+ riders.

Q. How much do board graphics matter? What about "blank" decks with no graphics?
A. Board graphics help to communicate the style and attitude of the rider, so you'll want to choose something that represents the rider you're buying for. In the 80's skateboards were treated like collector's items and slide rails would be installed on the sides of the board explicitly to protect the graphics from being damaged when skating. Today's skaters are less precious with their boards, but many still collect, trade, and sell skateboards of historical and cultural significance. If you want to avoid some of the mark-up for branded boards, you can also find wholesalers that sell blank decks without graphics. It's more difficult to assess the quality of these boards without a known company behind them, but if you're willing to take the risk, save a little money, and follow the guidelines set out above to find a quality skateboard, you can still get a decent board at a decent price (you just might want to pick up a few stickers to give the thing a little attitude).