Best Skateboard Bearings (2021)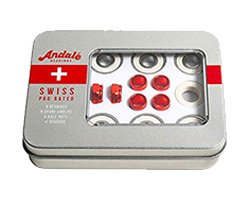 The Andele Swiss bearings are designed and engineered in Switzerland by top engieers and use an optimized blend of nylon and fiberglass in the bearing cage for durability.
Grade 5 swiss bearings exceed the ABEC scale standards and the Andele Swiss has a machined inner race for the shield to lock in speed oil and keep out debris.

There's no ceramic upgrades so these bearings might wear out a little faster and lack the water resistance, but they've taken steps to ensure these last a long time.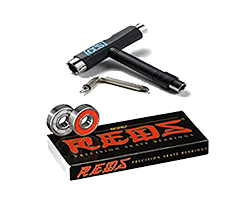 Bones Reds are the beloved old stand-by of the skateboarding community and the best selling. They deliver performance and durability at a fraction of the cost.

Bones uses their own "Skate Rated" system, but these bearings match most ABEC 9 sets in quality for a lower cost. This set even includes a skate tool to keep you rolling.

No ceramics or swiss engineers in this set, but they're pre-lubed and should last a couple years as long as you ollie over the puddles and keep an eye on them.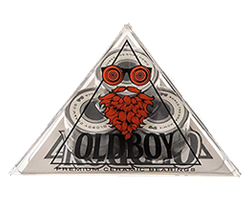 These Oldboy bearings are ceramic instead of steel to avoid rust and damage with a nylon bearing cage so you can skate as hard and fast as you want.

Manufactured with 608RS ceramics, the ball bearings will last forever. They can also withstand 364 pound-feet of force for maximum durability.

You're not getting the precision swiss standards here like with Bones ceramics (or their waterproof shields), but these are great bearings at a great price.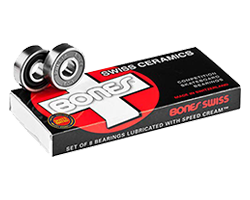 The time-honored champion of skateboard bearings. Not only are they swiss engineered, they're ceramic to boot. Speed, precision, durability, and a warranty to match.

Swiss ceramics are lighter, harder, stronger, and longer lasting than steel bearings with a waterproof exterior.Every pro skater swears by them.

No faults to speak of, aside from that price tag. Quality comes at a steep price 3-4 times greater than an average ABEC set. How fast do you want to go?

Best Skateboard Bearings – The Basics
Skateboard bearings are small circular rings placed between skateboard wheels and truck axles that allow your wheels to spin. They're made of an inner and outer ring with precision manufactured metal (or ceramic) balls inbetween and a bearing cage to make sure the balls don't rub against each other and stay evenly spaced. They often include an exterior shield to keep out debris and seal in lubricants.
Speed
The bearing balls are the key differentiating factor when choosing what bearings to buy. Most ball bearings are made out of steel and manufactured to an ABEC rating from 3-11 (more about that below) but superior performance and durability can be found in ceramic bearing balls that are lighter, stronger, and more resistant to water and dirt.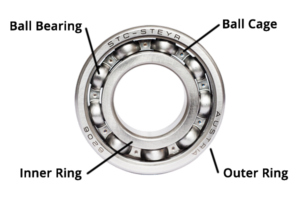 Ball Cage
To keep bearing balls in position and evenly distributed for maximum spinning efficiency, a cage is set between the balls and usually hold 7-9 bearings in place. Some cheaper bearings will have fewer balls and aren't well-suited for skateboarding. These cages are sometimes made of plastic, but are preferably composed of nylon or fiberglass to maintain shape and resist deformation.
Shields and Lubricants
Bearing shields are thin steel or aluminum sheets of metal that pop into place over the front of a bearing to 1) keep out water, dirt, and debris 2) seal in special synthetic oils that reduce friction and keep your bearings rolling smooth. High-end bearings will even have a rubber seal to make the bearings water resistant. Some riders choose to not use bearing shields because they prefer the sound of uncovered bearings and these can be protected with thicker, creamier lubricants that fill cavities and repel foreign contaminants. You'll almost always get better protection and performance however, if you maintain and utilize bearing shields.
Options with Bearings
As you're trying to fine-tune the best skateboard bearings, you'll have a few options to consider outside of the standard composition. Depending on your preference and the other parts of your board, you may want to include some of the following.
Speed Washers Some bearing sets include small washers you can place between the nut mounted on the truck axle and the inner ring of the bearing, often with a second washer on the opposite side resting against the hanger of the skateboard truck. These can help increase performance if properly maintained.
Pros: Helps to reduce friction between axle nut and the bearing, preserving the bearing and increasing speed.
Cons: May squeak or cause additional friction if damaged or not lubricated properly.
Bearing Spacers Depending on your wheels, you may need cylindrical plastic bearing spacers that sit inside your wheel between the bearings. Many wheels have additional urethane inside this inner cavity for the purpose of holding bearings in place, but if you want additional support they're a good option.
Pros: Help to keep bearings parallel, especially useful with soft or "non-core" wheels.
Cons: Could be an additional point of friction if not maintained or replaced as needed.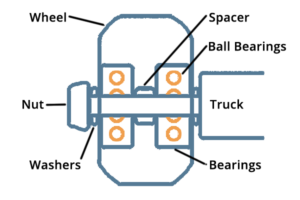 Cleaning Kits Some riders meticulously maintain their bearings for optimal performance, including regular soaking in solvents and cleaners. Having a kit with a bottle or chemical to help this process is a good idea, assuming you have the patience and quality of bearings to warrant this extra work. (See more on cleaning bearings below)
Pros: Helps to maintain the bearing after they've started making noise or slowing down.
Cons: May compromise internal lubricants. Don't expose rubber shield to harsh solvents, try to find a natural citrus degreaser for best results.
Expert Tip
When installing your bearings, place a single bearing onto the protruding axle of your trucks, then thread the wheel onto the axle and on top of the bearing, pressing down against the side of the truck hanger to squeeze your bearing into place (without any hammers). To remove the bearings later, hook the inner ring of the bearing inside the wheel onto the end of the truck axle, then firmly pull the wheel down and to the side until the bearing catches the side of the axle and pops out!
Frequently Asked Questions
Q. What's the deal with those ABEC numbers anyway?
A. The acronym "ABEC" stands for Annular Bearing Engineers Committee and are numbers used to assess the quality of ball bearings and the maximum RPMs that a particular unit could achieve. ABEC 7 rated bearings could feasibly support a rider going over 127mph, but even Danny Way doesn't skate that fast, so the ratings become irrelevant at some point. Brands would use lower ABEC rated components for their entry level bearings and higher ABEC for their premium ones to the point that the skateboarding community just assumed higher was better. In reality they don't hold much sway and newer "Skate Rated" systems give more true-to-life comparisons.
Q. How much should a set of bearings cost?
A. A full set of 8 bearings can cost anywhere from $10 to $175 depending on the quality of the skateboard you're looking to build. Most entry level products range from $15-$25, with mid-tier ceramics coming in at $30-$50. If you're a glutton for speed with some disposable income, Bones makes Swiss ceramic bearings for well over $100 that outperform the competition and, if maintained, can last for 5 years or more making them a potentially better investment in the long run.

Q. How do I clean my bearings to keep them running smooth?
A. Whatever you do, DON'T USE WATER. Common lubricants like WD-40 are also prone to dust accumulation and you should look for an oil-based bearing lubricant. With some bearings you can apply cleaners to the outer edge of the bearing shield that then permeate into the inner ball housing, but for water resistant models you'll need to remove the bearing and bearing shield from your wheels. The kind folks at Bones have a video to help demonstrate the best skateboard bearings technique: